Mar 10,2022 by divoom-direct
Divoom Timebox-EVO Review – A Bluetooth Speaker with Mesmerizing Pixel-Art
Everyone is cutting the cords these days. One of the first wireless devices to emerge on the market was the wireless speaker. Bluetooth, Wi-Fi, portable, big or small, the speakers are everywhere and you have choices based on your budget, design, and functionality everywhere. Most of the products look the same and have similar functionality. Recently we have seen something different (the first in a long time): a pixel art Bluetooth speaker from Divoom. Divoom is one of the most reputable speaker brands in the world, and the Divoom speakers have been sold worldwide in over 40 different countries. The company started in 2006 and was MFI licensed by Apple the next year and in 2011 they released their own first Bluetooth speaker. Forward to 2020, Divoom is already at the 4th generation of pixel speakers, releasing the Timebox-EVO.
Introduction
When looking for simplicity, when it comes to speakers, the easiest way to play the sounds is to release the cables, connect via Bluetooth with a phone and release the sound whenever you are. Bluetooth speakers come in a variety of models and sizes, but most of them are plain and boring, so you need something different to spice up your space. How about some led lights that bring on the holiday spirit, or nature, or even some of your beloved pop-culture characters into a screen? This is what the Timebox-EVO brings into play.
TIMEBOX-EVO IS THE 4TH GENERATION OF THE DIVOOM PIXEL ART SPEAKER LINE-UP. THROUGH ITS MODERNLY DESIGNED CHASSIS, IT DELIVERS THE DSP-TUNED FINE AUDIO. WITH THE POWERFUL DIVOOM SMART APPLICATION, USERS CAN ENJOY ITS FUN PIXEL ART CREATION AND OTHER MASSIVE FUNCTIONS. AUTO SLEEP TIMER GREAT TO LISTEN AND FUN TO PLAY. THE EVOLUTION IS HERE!
This little Bluetooth speaker is available on Amazon for €49.90 (price at the time of the review) and comes with a Programmable 256 LED Panel, 6W DSP tuned broadband speaker, smart functions, and a 2500 mAh battery that will last you up to 6 hours of music playing without charging needed.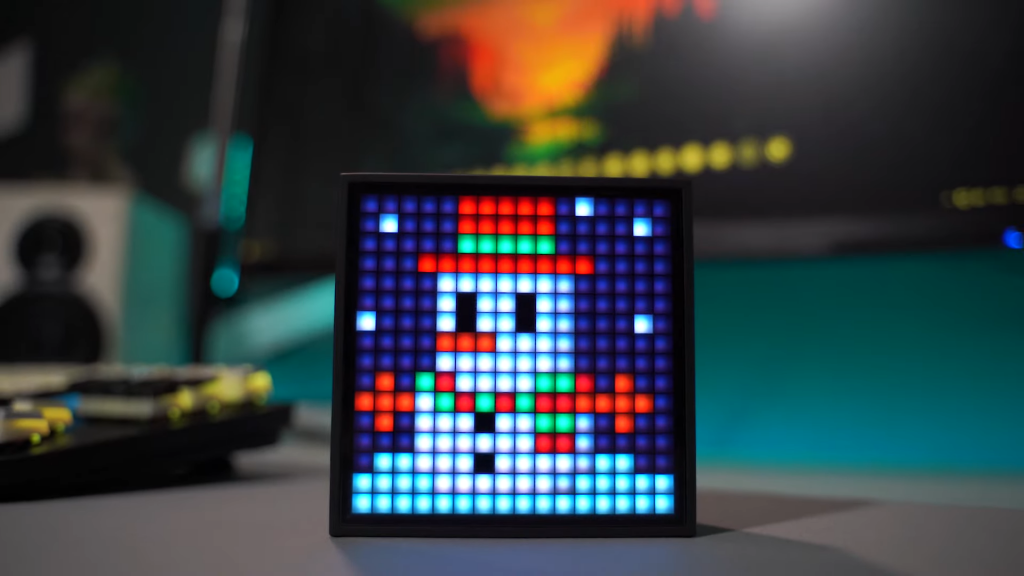 Specifications and Features
| | |
| --- | --- |
| Dimensions: | 98.5L x 98.5W x 38H mm |
| Driver size: | 2" full range |
| Output power: | 6W |
| Signal to noise ratio : | ≥75dB |
| Battery Capacity : | 2500 mAh |
| Battery Voltage : | 3.6 V |
| Battery Charge Time : | 3.5h hours |
| Playback Time: | Up to 6 hours |
| Bluetooth compliant: | Bluetooth V5.0 smart |
| Weight: | 316g |
| Frequency Response: | 95-20K Hz |
The Timebox-EVO features a 6W speaker w/bass port, 256 LED panel w/16 million colors, Pixel art, Animation, and text creations, Online pixel art gallery and community, 48 Built-in sleep aid & alarm profiles, Social media notifications & many other functions.
Packaging and Accessories
The Timebox-EVO comes packed inside a small solid case with a mainly black background and a big image of the speaker on the front.
Inside we have a black box with the Divoom logo on top and it feels solid and premium from the first moment you touch it.
The speaker is well packed inside this box.
Besides it, inside the box we have one USB cable which will be used to charge the Bluetooth speaker.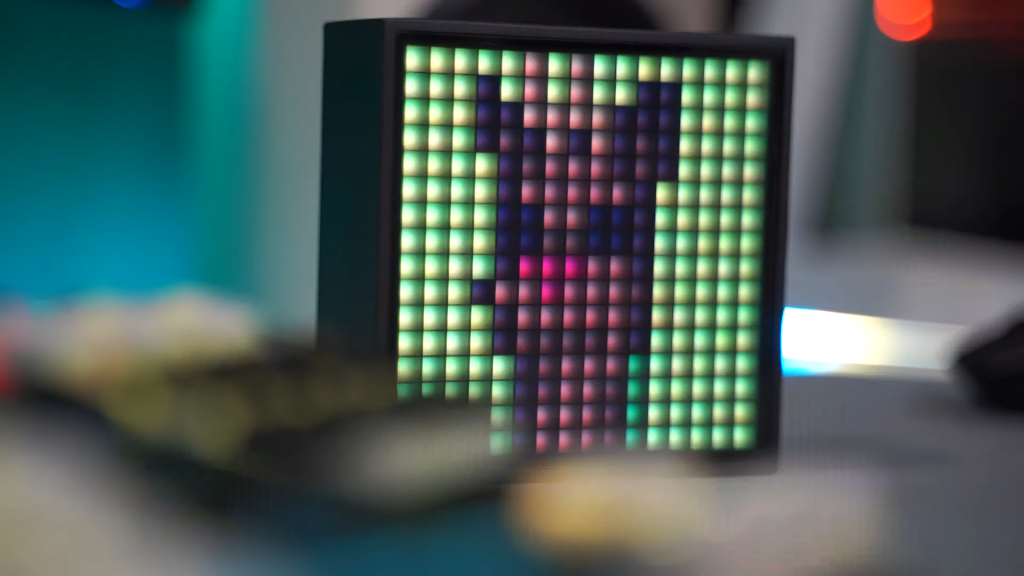 Closer look
The Timebox-EVO looks simple and has a classic rectangular shape. At the first glance it looks like just another basic speaker. Looking closely you will notice that the front side is made of a single LED panel that covers the entire side. This screen looks great, the colors are bright and the panel can handle 16 million colors. It has a screen protector on top which will prevent scratches.
The backside hosts the speaker, which is plain and simple. The 6W power does not produce the loudest noise, but for its size, it is enough.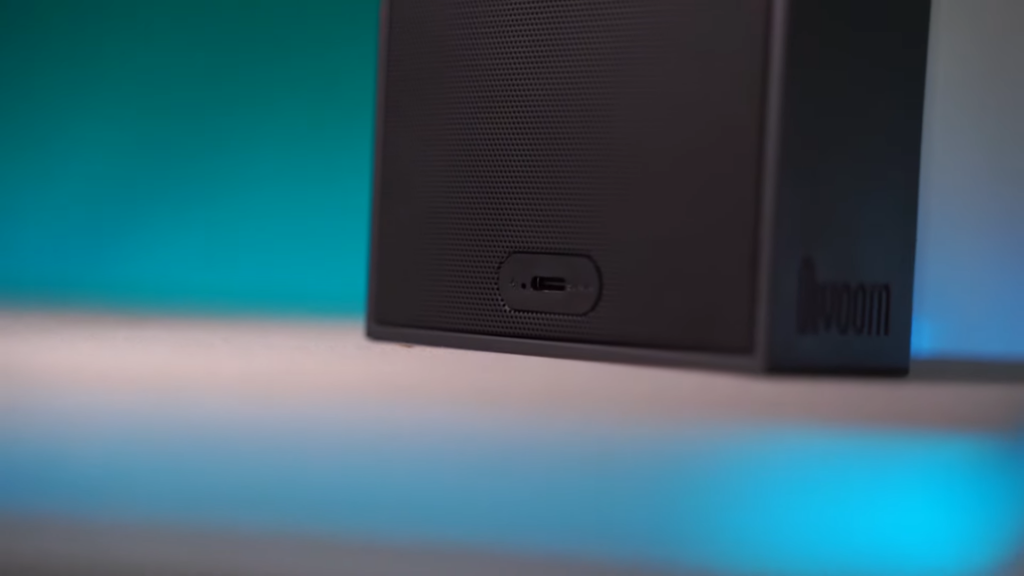 The sides of the Timebox-EVO are covered in a coated rubber plastic with a matte finish, which is very resistant to fingerprints and dirt. Here you'll find the power on button and on top you have media controls and a button to change screen animations and lighting modes.
Construction-wise, we can see that Divoom did not opt for cheap materials and the speakers look solid and sturdy.
Sound Quality
Being a speaker, the first thing to analyze is the sound quality (even though the main feature is pixel art). So we paired up the Timebox-EVO with our phone and tested it out. The sound quality is overall decent, not really premium, and not really loud.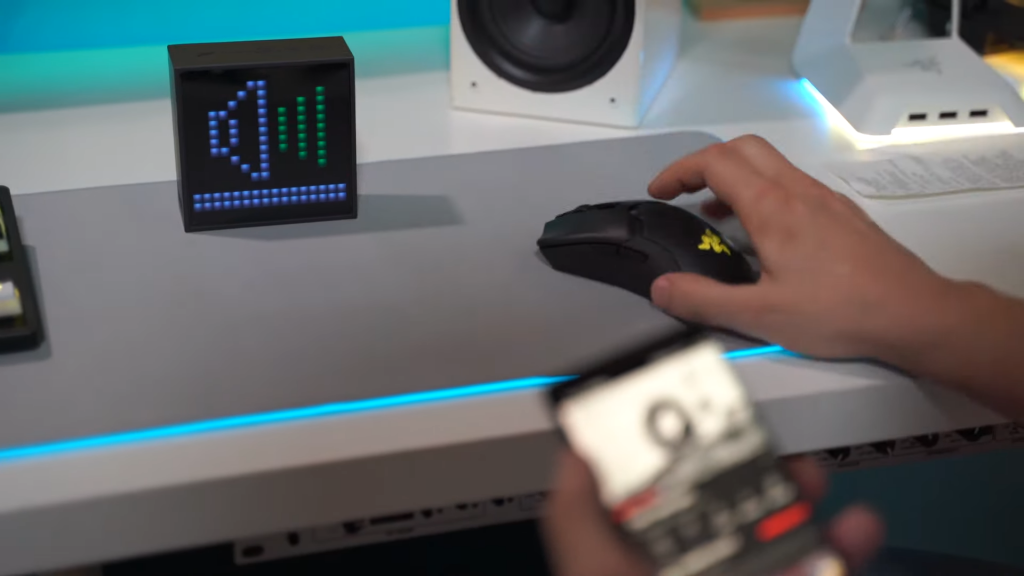 The volume is more powerful than you would expect from a speaker of its size, the bass is there, providing some depth for the sounds and it works ok if you are using it for your home comfort, listening while you do stuff around the house, getting a barbecue ready or working/learning, but won't delight any friends if you are throwing a party.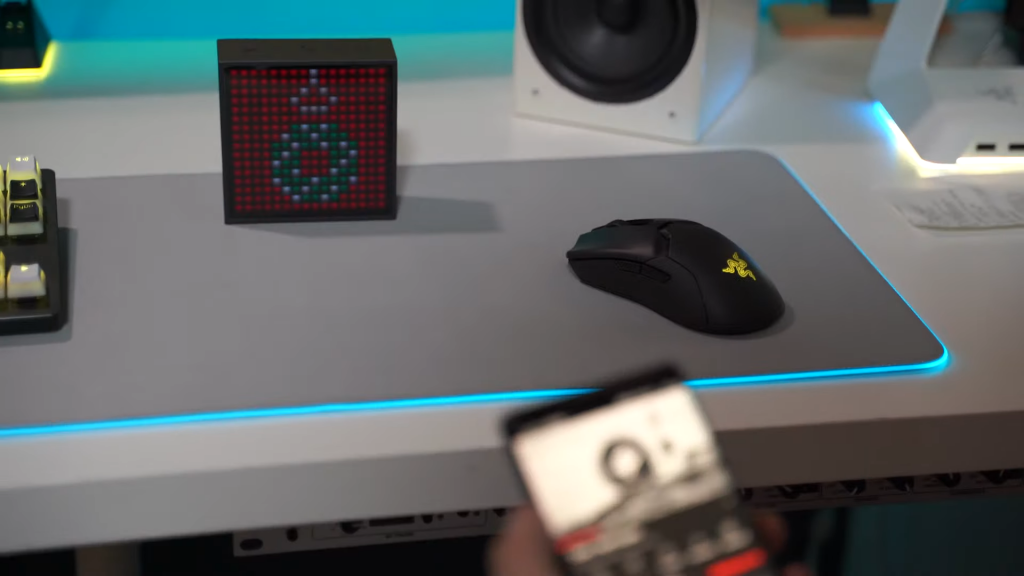 Overall, the sound quality is decent and better than expected.
Pixel Art and Application
The Timebox app is needed in order to change animations and put what you want on the screen. You can register a free account when you install the app and you can start from there. The application offers a wide variety of pixel art stills and animations that you can display on the screen. Once selected, the desired animation comes to life on the screen almost instantly, which is great.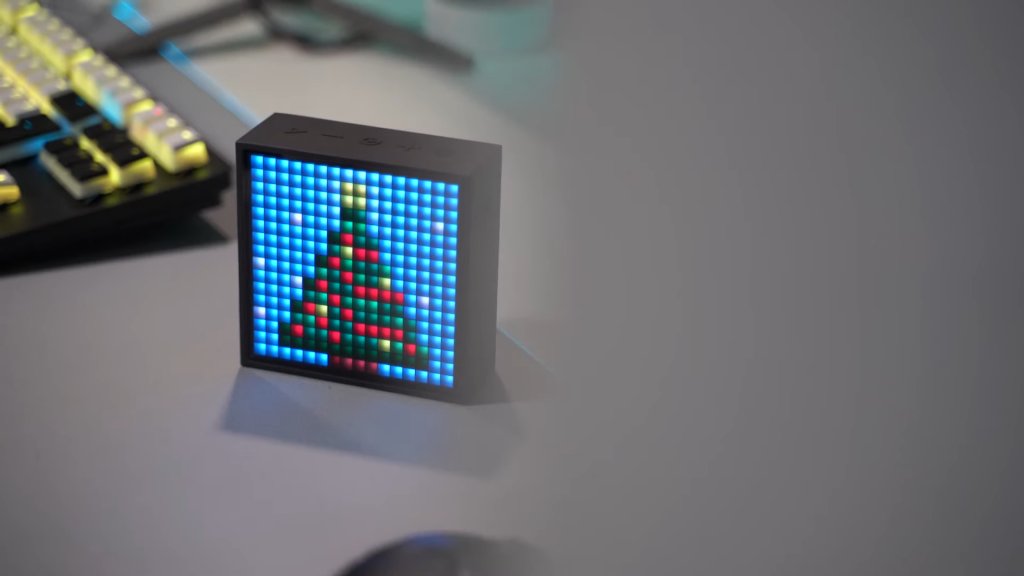 The animations include pop culture figures, cartoons, holiday themes, nature, fashion, lifestyle themes, and much much more. You have a ton of options to play with which can be overwhelming at times, but you'll find something you love pretty fast. You can even create your own pixel drawing and animations and display them on the speaker and even share them with the community so anybody can use them.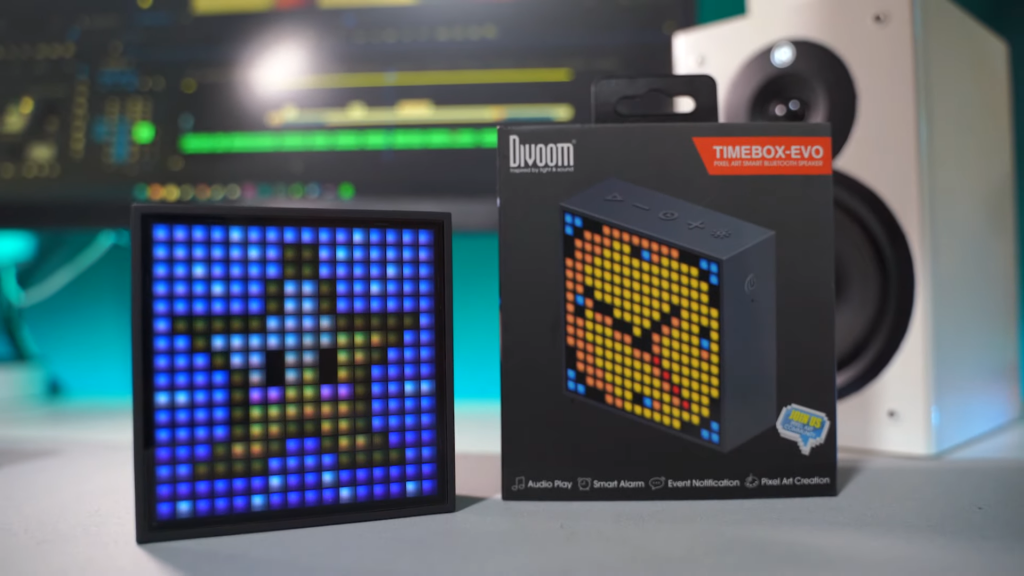 Besides animations, you can set the display to show the clock (which is customizable in colors and style), local weather, calendar, temperature, set alarms, and voice memos, play music from radio channels, and even play games on it. It also has a stopwatch and countdown, noise meter, and can also display a scoreboard. You can even set the Timebox-EVO to display a flashing icon of a social network or messaging app each time you receive a notification.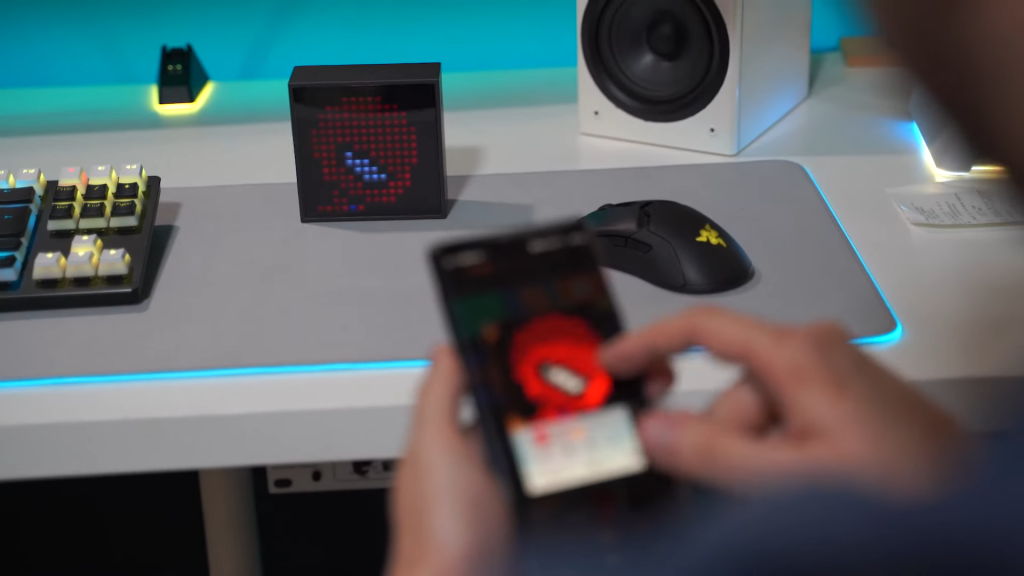 Browsing through the app settings you can also find the Mixer mode, which basically allows you to create your own midi sounds, play them and animate them on the speaker. You can also record your voice and apply effects to it and make it play on the speaker.
The music tab in the app will let you play radio music, and you have a wide range of stations available, which you can sort by genre. There are worldwide radio stations available (basically everything available online), so you can listen to anything you want. You can also play local audio (music stored in your phone) directly from your app or TF Audio.
The settings area in the app allows you to customize the speaker to your liking, giving you freedom to do everything you want.
Overall, the software is awesome, works great, is very responsive and offers a lot of functionality (even though some is purely cosmetic). You can do everything you need with the app and then some, which makes the speaker more than just a Bluetooth device.
Battery Life
The Timebox-EVO lasts you about 6 hours of music playing and animation on a complete charge. The speaker can be charged via USB from a PC or from the power outlet and it takes about 4 hours to become fully charged. You can also use it plugged in, so you have a lot of flexibility. The speaker is designed for use at home, so you can keep it plugged in, but you can also take it with you at a picnic, meeting or party if you ever need it and the 6 hour lifetime on battery should be enough for everyone.
Final thoughts
The Divoom Timebox-EVO is more than just a Bluetooth speaker and it actually has a lot of functionality for a great price. Being available for €37,95 (at the time of this review), the portable speaker is a cute, colorful, and overall great companion to have at home. Even though the speaker is portable, the best functionality you will get from it is at home, where you can display animated designs based on your needs and customize it to your liking.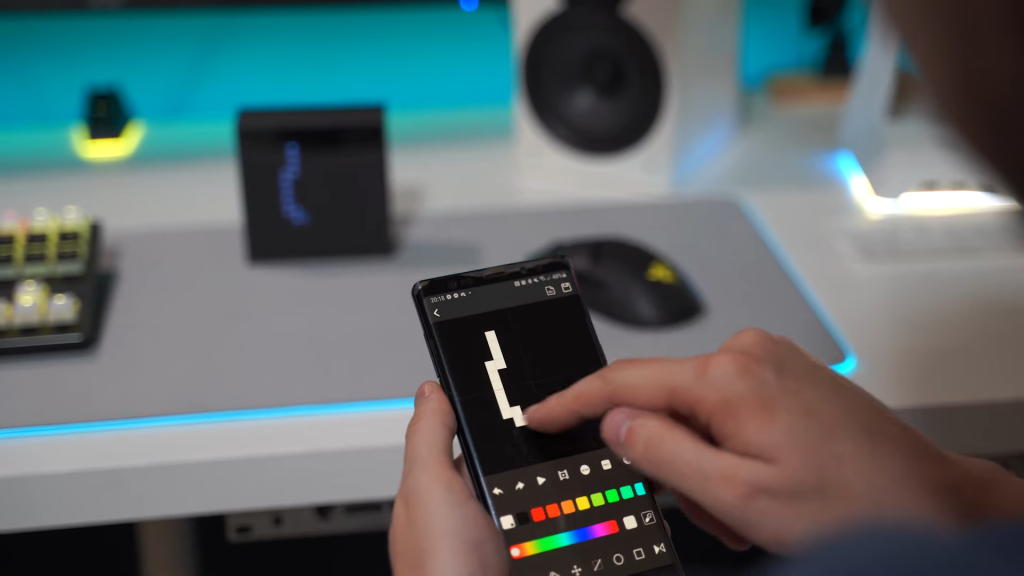 The sound is good and you can use it for everyday music playing and the app gives a lot more functionality to the Timebox-EVO, turning it into an alarm clock, calendar or even notification center. It is fun to use for both adults and kids and it's a great piece of tech to have around the house.